Wednesday, May 28, 2014
It's raining. You're not too unhappy with your rain gear.
The rain also cools. You did install heated grips when purchasing the bike and you appreciate today. They help but you must still stop you every hour to take a big hot chocolate or cappuccino.
The bike is doing pretty well. Strangely, no LED flashes today. After 300km, you decide to do a full tank anticipating the lighting of the subject. You could do without, but you wanted to experience: untie your boat, push it forward to access the filler cap in the rear tank … It takes you more than 5 minutes to do, and much to put everything in place. But the bike did not fall!
Motorways in Poland are not free, and only few cars use them. At your first stop, you realize that Poland is outside the euro zone … you expected to pay in Euros to Russia, and you're a little disappointed.
After Poznan, you go up to the North. You stop in Gniezno, the first city to find a hotel. You want to heat. You try the first hotel on your way. Its parking seems exposed and you're asking if there is a garage. Negative answer. You keep and find a second hotel. No garage either, but they have a room on the ground floor where you can store your stuff. And parking seems less exposed.
Then you undo the straps holding the boat, the owner of the hotel arrived and said you may enter your bike in the lobby. It is a common practice in Central Asia or South America, but you did not think someone would propose you here.
The receptionist and the owner are nice. You talk to them about your trip, show them your book of photos from the previous trip. After a tough day, their warm welcome you.
You also learn that Gniezno is one of the first capitals of Poland. The receptionist gives you a tourist leaflet presenting the city. Five kings were crowned here. They all have good heads, not heads of warriors, or lazy kings.
The hotel is very good. From the window we see a stadium. As often in Poland, a Polish flag and European flag dominate, side by side. You are for the development of Europe, and happy to see that here the European sense is proudly displayed.
You order a pizza. The cost of living seems you two to three times lower than in France. You think you want to go back to Poland, with more time to visit.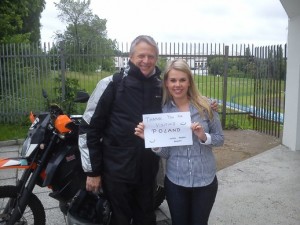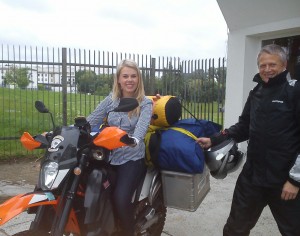 Thursday, May 29, 2014
The rain stopped, even if you meet regularly showers. It's cold.
The road you have chosen on the map was supposed to be a shortcut. You're wrong: villages succeed and you do the 50 km/h average. At least it makes you discover the rural Poland. As everywhere, the campaign is the latest to evolve and sometimes you feel transported back in Soviet times. The only difference is the road where trucks and modern cars run. But there is still the old facades, old factories, and sometimes old tractors ageless.
You smile when you see signs prohibiting traffic to horse-drawn cars. The problem should be there another 20 years, but you do not think this is always the case.
At noon you stop at a restaurant road. You take a hot goulash and appreciate each spoonful.
You are now on a large cross road: the S16. It will lead you to the Lithuanian border. A funny way, very uneven, where some portions are large, and others look like a small country road. Many turns. You move a little faster, but barely. Fewer villages, but still crossed cities. Few bypasses.
You wanted to be entered in the evening Lithuania, but you give up. It's late and you're already tired.
You always fear the judgments because of the stand. You need to find a perfectly horizontal plane, or else seek the perfect orientation. Often, you think to have found, and you realize that balance is very unstable. Sometimes you open both side stands hoping they are complementary.
As for your electrical problems, they come less often even if the error is sometimes repeated. Often at low speed when the engine is very hot in the city. But when you cut the contact, it is usually forgotten at restart. You do not understand this error, but you will live with.
The early days, you had very large doubts about the ability of the bike to take you away with all that luggage. Doubts fade gradually, and you can enjoy the road to look at the scenery, to think about your family, your friends.
For the fuel, you have found the strategy: You need to fill the two tanks at the evening, once you have removed the boat, and fill the front tank only during the day. It means a first section without filling of 400-500 kilometers, then stops every two hundred kilometers.