Wednesday, July 23, 2014
You're on the boat as planned at 7am. The crew offers you a coffee at the bar, and a young woman comes to meet you: Natalia. She was your contact at the Ministry of Sports and Tourism for getting the Chukotka pass. You tell her to have met quickly Mille yesterday. You feel she is disappointed by your level of Russian. You had only exchanged emails and you used intensively GoogleTranslate.
Your cabin is comfortable and you re-read the texts late for your blog in English. At lunch, you come among the last in the dining room, and you sit at one of the last available seats in front of Natalia. You are surprised because there mostly Russians around this table. When you ask your neighbor if she is cruising, she'll explain that she is Irina, the Minister of Sports and Tourism of Chukotka. The person who obtained your Chukotka Pass. She also explains that this trip is not a cruise, but all passengers come to participate to the "Artic Games", which took place near Provideniya. There are not only Canadians on this boat, but Icelanders, Russians, Norwegians and also Greenlanders. The ship brought up on the participants, and it has been probably used as a hotel for the duration of the games.
In the evening you attend a screening of photos on the running of the games. Beautiful photos for a beautiful event. A confidential event more of culture than sport. Not really "Olympic" games, even if the sport was the common thread. The opportunity to bring together young people from different polar regions. You would have liked to attend. In any case, all participants seem happy. All seem to become friends.
Thursday, July 24, 2014
You arrive close to Anadyr early in the morning and the boat is anchored in the center of the river, close to the Anadyr airport, located on the opposite bank. Three quarters of passengers take a flight today. The others will have their flight tomorrow but they land for a walk. You stay with the crew, to take advantage of the Internet and to prepare the next steps of your trip. Rodney, the owner of the boat, told you that your bike will be landed tomorrow, with the barge which will supply the boat.
You ask questions to Rodney on the route to cross the Bering Strait. He is the best person you could meet to discuss it. He will not recommend going through Cape Chaplino which lies just east of Provideniya. Big waves, strong current. Too dangerous. There is a track that would allow you to get around by motorcycle and reach, 20 km north of Provideniya, an area protected by ​​two islands. That would make also reducing your sailing by more than 100 km. From there, you could sail to Lavrentiya, then cross the strait south of the Diomede Islands. He thinks that this crossing is feasible, and you're happy to hear it. It is also necessary that you have permission to leave Russia from there rather than from Provideniya port.
The evening meal is in reduced committee. You are still a dozen of passengers. You sit in front of Mille who speaks with Rodney about her life in Alaska. Mille is not an American citizen, she is Danish. Her difficulties in obtaining the green card, her life with her huskies.
Friday, July 25, 2014
The last passengers left. Remains the crew who prepares the ship for the next cruise. You go back a moment to talk to Rodney. You quickly tell your lives, your travels, your projects. He is the only one with whom you have really communicated on this boat, and it is rather a surprise.
You arrived in town around noon and you go directly to the port. It leads you to the "dispatcher" the person who knows the list of departures. You speak in Russian with him as you can, but you understand too well his answers:
Provideniya?

No boat to Provideniya.

But Seagrand? Niet, it goes to Vladivostok.

When a ship to Provideniya?

There is one ship plans at present: on August 11th, and it will be a passenger boat which can not take your bike.

Then when?
He does not know … after August 15? In Egvekinot the Seagrand was the container ship that also went to Anadyr. Its captain said it would go to Anadyr and then to Provideniya, but its destination has now changed.
Disappointment. Your coming to Anadyr does not make sense now. You do not want to stay there. Return to Egvekinot? There is a boat tonight, then the next one in a week. You leave the dispatcher to think about this, come back ten minutes later: you return to Egvekinot tonight. You shall make the tests there and see what happens next: either you're go along the coast, or you will wait for a boat, or you will give up the journey and get home. Or … well you'll see.
You will have lost a few days in this useless round trip. But it has been the opportunity to meet Mille, Irina and Natalia. And especially Rodney who has teached you how to sail through the strait. In the end, not quite useless.
The boat is Egvekinot is still loading. It carries coal. Apart Bilibino which had its nuclear power plant, the only one in the world above the Arctic Circle, all cities have coal-fired power plants. These plants provide the mandatory heating for the towns in winter. Their replenishment is the main activity of sailing, on either sea or river.
The dispatcher asks you to come back at 3pm for border guards check your documents. You go into town looking for a restaurant. You find one in the center, but too chic. You try to find another in several parts of the town, but each time you ask people, the answer is the same: no restaurant here, but you can go to the center, there is one. You're tired by this research, and you finally resign yourself to go to this "klass" restaurant . You look like a clown. All clients are businessmen. All very well dressed. The atmosphere is very chic. Fortunately, there is a cloakroom where you can leave your bag, your helmet and your jacket. All dusty. When you get into the room with your boots, your pants dirty and your fleece, you really do not feel you in your right place. The waitresses seem embarrassed. You're sorry for them. You eat a fish dish as quickly as you can, take an espresso and run away to find the rain.
At 3pm, you return to the office of the dispatcher. Border guards inspect your documents. Everything is ok, they will report to the captain. You must now be back at 7pm for boarding.
Back in town. You park the bike near the church. You see, front of the next building, Irina and Natalia. You just have time to explain to them that you return to Egvekinot as they are in a hurry. Near the church, Swedes and Swiss tourists. They will be on the Rodney's boat for the next cruise. You go to the museum together. Photos are prohibited except to pay a few euros. You pay ten euros each to see two rooms without interest, and the cashier picks you to kick you out because you stay more than 5 minutes in one of two rooms. Museums and Bilibino Egvekinot were incomparably more interesting, better supplied and above a thousand times more welcoming. You continue to wander in the rain. You get into a hair salon. You're the only man, but never mind. The hairdresser is an artist of the scissors, and she is smiling. Her smile warms you.
At 7pm, you're at the port. You are about ten passengers. A new lift in the air for the motorcycle. You became effective for unloading and preparing it for a crane. You are entitled to an individual cabin while the others are two or three passengers per cabin. The crew, but also other passengers talking with you. Three young people go to Egvekinot for a concert. They are interested in your journey and you show them the video. You're always happy to see the smiles when people understand the principle of the motor-boat.
Saturday, July 26, 2014
Always bad weather. Rain, cold, fog and 2 meter waves. You would not like to sail on your bike in those conditions. This cargo is much more stable than the Rodney's boat. Much bigger, much longer.
At breakfast, one of the young musicians want to talk to you. He wants you to speak at the microphone during the concert, you push a few screams. You are not interested, and he is disappointed. But you will come to attend their concert.
You go back on deck early afternoon. The sea became flat. Of course, you're already entered the long bay of Egvekinot, but the contrast with what you saw three or four hours earlier surprises you.
Once landed, you join the gotsinitsa. Everyone looks happy to see you. You find yourself in the same room. You've become a regular.
In the evening, the concert takes place on the ground floor of the gotsinitsa. But you fall asleep before the festivities begin …
Sunday, July 27, 2014
You hate weekends in small Russian towns. The most popular activity is to drink vodka. Most people that you meet and feel stagger vodka, and it makes you more uncomfortable.
You wanted to ride to Amguema, but it's raining and visibility is low. So you start to assemble your transmission system for the boat. The good news is that all parts have well traveled, without damage. Your packaging was at the level of the journey.
You put more time than expected for mounting. You had already forgotten some of the details. You alternate sequences of mechanical and Internet searches.
Some good news: Dominique, a friend who has sailed solo Atlantic accepts to help you for the weather forecast. You download GRIB files regularly in the area, but your knowledge of the sea is low, and you need advices.
Finally, you discover that Nunligran, which is halfway between Egvekinot and Provideniya is a real village with about 300 inhabitants. Maybe you could find gasoline there ? At the very least, there will be a store and you could take a break. The distance between Egvekinot and Provideniya is 450km. You do not feel you get started for such a journey. While cut into two parts, it becomes more realistic.
Everything will depend on your tests. Before you left home, you just starting to plane. But you did not have the time nor the good weather to seriously test "planing" mode. Lots of things to check before embarking for a great crossing.
In the evening, your neighboors come to you. You spend time with them, tell them your travels. The youngest, Dima, seems particularly interested. You'll also get your book to show them. Each time, the Russians in Siberia are surprised that you can make such trips. And you're happy to bring surprises.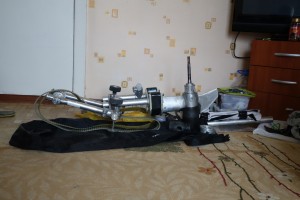 Monday, July 28, 2014
You finish to prepare the bike for the trial. You're visiting Maria. You tell her you're looking for information on Nunligran. Maybe the local representatives of the Chukchi could help. She will contact them.
Back to the Gotsinitsa, you meet Dima. You thought he was working, but he does not work now. You ask him if he could give you a hand this afternoon to mount the bike by boat mode. He agreed.
You take coffee with Dima before you go to the sea. He now seems reluctant. You understand why he is not working now: he has a broken hand ! But he assure you that he can help you with his good hand. Why not.
You should get into the sea. You go there with the bike loaded, but Dima does not come. You will wait in vain. Misunderstanding? It's not a big deal.
Nobody but a man who unravels a fishing net near a shed. You come and trying to initiate a conversation. You explain your project to him. Man is surprised and telephones to the border guards who will come. Surprizing, but why not … You call Bob from Irkutsk and ask him to translate what is being said. You did not meet the officer earlier, but he is aware of your project, probably by his colleagues. He knows that your documents are in order, but he puts you on your guard against the risks of the sea. Bay is protected, but no one comes out with a small boat. You know that.
Once the border guard left, you continue the discussion with the fisherman, joined by two of his friends. You take out your map of Chukotka, and talk about the road. Nunligran? Nobody goes there from Egvekinot. Too far! But he confirms that you could sail, after the bay, in a long 80 km lagoon opened at both ends. After? The waves will return you. That makes him smile.
You understand that sailing could be dangerous. Conditions can change quickly. You know that this trip is possible for you if you are helped to weather. If you can be certain favorable conditions.
There is no culture in Russia "weather forecast" for boaters. There are also no real sailors in a place like Egvekinot. Only large ships, a few taxi boats and then individuals – often casual fishermen – who remain in the bay area. The bay is more than 100km long, and there is alreay much to do. You understand that no one travel to Nunligran since Egvekinot.
You also looking for a solution for the night. If you set up the bike on the boat, where could you leave it? On the beach? Not very safe, and the tide will move it. Find a shed ? You would have to drag the boat on the rocks. This would require that whenever you find a lot of hands to help you, and you also would multiply the risk of punctures of the boat on the rocks. However, several boats are moored to buoys. You think that you have to find one available or make an anchor buoy by yourself. There are lots of scrap pieces on the beach, which is not really a beach. You could let the boat at anchor and would join the bank by swimming. The water is cold, but you have your dry suit. There are a good fifty meters to go. The sea water is not good for the bike, but you must do these tests. You shall take a bath into a river when you will switch back to motorcycle mode.
You ask the fishermen if they own one of these buoys. No, they store their boat in their shed. Of course, buoys that you see have all owners. How to find the owner of a buoy? He does not know or does not understand what you are asking for.
Time has passed. It's almost 4pm, and Dima did not come. You go to the hotel a little annoyed. You unload the boat and mechanics for the night. Meanwhile, Maria has called you to propose you to give a presentation tomorrow morning for school children. It will be at 10am.
Tuesday, July 29, 2014
The presentation takes place at the public library. You present in English your two trips and the English teacher translates. That of 2010-2011, and the current one. Children have many questions again. You're happy to avoid the autograph session, but everyone wants to photograph you. You accept graciously, remembering you that, young, you always refused.
Then the director and English teacher make you visit the school. There is only one school in the town, they were 3 during the Soviet period. Today 400 students from primary. The buildings, equipment, are in very good state.
Many photos in the hallways. Sports, but also military activities. You did not know that these "military games" began at school. You are surprised, but the director as an English teacher seem to find it quite natural. And their students are particularly good at it. You understand why the omnipresent military thing does not shock: it is met very early at school.
You go to the gotsinitsa for lunch and then you go again on the beach. There are two small taxi boats that have just arrived. One with Chukchi children but the driver is a European-Russian. He seems close to these kids and seems to be a good man. You try to talk to him. They come from a village, Kanerguina, located at 45 km on the way to the exit if the bay. But he never goes to Nunligran…
2 pm. You know you will not mount the bike on the boat today. It is already too late for the tide. You're going to visit Maria. She has information for you: first the next ship to Provideniya will leave on August 12th. Probably the passenger boat which you had spoken with the dispatcher in Anadyr. Then for Nunligran there … it remains unclear whether you can find gasoline. Nunligran is not in the Egvekinot district, but probably in Provideniya district.
You talk to her about mooring buoys. She calls the head of sports in the city. The sports department has a boat attached to a buoy. They accept that you're moorings above.
You ask also the director of sports if he knows a person who can help you to mount the bike on the boat. You think you can do it alone, but you're not sure. And you should not be surprised by the tide, with the bike disassembled and placed on the beach.
He calls someone who can help you. Sergey you seem to be a pensioner. You're probably not both among the strongest but you should get there. Appointment is made for tomorrow 1pm.
You come back to the town. Trying to find large plastic garbage bags, but the concept of garbage bag does not exist. Since you're in Russia, you realize that there is often ordinary objects found anywhere else but here.
9pm. You're on the internet after writing this text. There is a knock at your door. Probably someone who wants to talk bikes, or travel … No, a lady in a blue raincoat closed up to the neck, which stretches out what is looking like a police card. Behind her, the border guard you met yesterday. She wants to see your passport and pass. You're not worried because you know they are in order. She asks you when you arrived, when you plan to leave. You do not know. You follow her into the office of the gotsinitsa. You begin to understand: hotels must register foreigners to the police station, and it did not happen. A legacy of the Soviet period begins to fall into disuse, but Chukotka is still under a strict control. Thereupon, it must be more than 8 days you came to Egvekinot. She asks the hotel employee to write a long declaration. A bad time for him. The Russian administration uses a lot of paper. You hope that it just is not too much trouble for the employees of the gotsinitsa. They are really kind with you.
Wednesday, July 30, 2014
You start to prepare the bike on the front of the gotsinitsa. It's raining and you're quickly soaked. At noon, everything is ready, and you take a meal before you go to the beach.
Sergey is there. You unfold the boat, install the bike over before removing the wheels. Things are going reasonably well. You are happy to have forgotten nothing, except perhaps some details of assembly. There is a lot of detail, and time passes, always in the rain. You are cold .. You have nothing on your head, and your hair is soaked.
A man Tolek, attends the show. He owns an old shed next to the place you are working. He seems friends with Sergei, and it gives you a helping hand sometimes.
You are supposed ton insert a small shock absorber between the swingarm and the bike. But the fixing screw is broken. The thread on the swingarm took too mud. You should have cleaned beforehand. It's too late now … You can not remove the screw portion that is blocked. You do not know how important this part, but it will do without for testing. You know that it is not necessary because you had added later.
The two fishermen you met yesterday passed quickly. One with whom you had discussed still looks skeptical. You understand the words "not serious". The remark irritates you. Of course all this is not serious! Is he serious with him his military uniform, his double chin and his smashed metal boat?
Finished, and you still have to go attach the boat to the buoy. A man went also anchor his boat using a mini inflatable boat. Sergey will ask him to lend it to you. Negative response. He is probably in a hurry. So you go to the buoy on your boat, and come back by swimming in dark water, dirty … When you get into the water, you wonder if your dry-suit is still waterproof after crossing Russia. Fortunately, it is. Swim warms you, and you come away from the water finally with a better feeling than when you entered it. Near the shore, a film of oil floating on the surface. You need to also avoid broken glass are everywhere mixed with stones. Always epidemic vodka.
You let your suit hanging in the Tolek's shed. You ask how much you owe Sergei. You want to pay but he refuses and instead offers you to go buy a bottle of vodka. You feel you touch the bottom, but you're all frozen and how could you refuse ….
You go to a store near the gotsinitsa. Sergei also took a bottle of wine because you told him you do not drink vodka. Then you return to your room. You have some food and you offer dinner.
The opening of the bottle of red goes wrong. You put some wine on the cloth that you had taken to protect the table. Bottles of vodka down, and you start to see your companions being met by alcohol. On your side, you will drink half a glass of wine and then go throw the rest down the toilet. A bad batch.
While your companions will leave staggered, you get a call from Kosta. He wants to know if you'll always be there for the arrival of Philippe. But Philippe is still in Seymchan, so do not reach Egvekinot before 15, see 20. Although late for you.
You connected to the Internet and look at the site of Le Monde. The news is not likely to make you happier. A very bad day in the world as in Egvekinot.
But the bike is finally in boat mode.
Thursday, July 31, 2014
Even the rain all night. You recognize that morale is not there, but you're trying to assume. A good shower, some clean, some mails to relatives.
9am. Upon leaving, the rain stopped and a patch of blue sky settles in over Egvekinot. It has pity on you, the rain. You headed to the beach with a little apprehension. The boat will be there as you left it? One of the floats there will not be deflated? The bike does not bathe in water? No, you see the bike on the boat, nothing changed since last night.
As you prepare, a phone call: a woman speaking English tells you that you are called this afternoon at the migration office, she will be present to translate. You wonder what they want you, but why not.
On the beach, Tolek. Are you ready to join the boat to swim when you see a man with a mini-canoe. Tolek and you can borrow it and recover the boat dry.
The tests start. You must first set the balance of support for the boat not too turns to one side, so you can steer just by moving your weight.
And then you try to plane. Nothing to do. You try several angles, you tune the belt tension, but every time you accelerate, the air reaches the propeller that cavitates. This happens every time you reached 10-11 km / h. You had fought against it for months and thought it was fixed just before departure. But you had not been able to do all the required tests, lack of time and favorable weather.
Without planing, your cruising speed is about 5 knots, or about ten km / h. It would double if you could plane, and you would consume less.
Why this? For planing, you had caulked the holes around the belt with tape. Now some rubber cut from a tube, which clogs the holes. The tape does not really appropriate because it does not last. The rubber would it be too soft, too flexible ?
The final solution would be to insert the belt into a closed frame, which would also protect against the pieces of wood in the rivers. But this is not something that can be done quickly, above all in Egvekinot.
You stop trials early afternoon. You lose the hope to plane reliably in the short term. So join Provideniya on your motor boat. 400km to 10km / h for 40 hours. Too risky, too long.
You go to the hotel. Natalia, the hotel manager comes looking for you. She wants to take you to the migration office, but it is first in other offices, may be a municipal service, that you visit. Photocopies of your documents. Natalia then guides you to the Migration office. You do not recognize her immediatly, but here is the lady who visited you the other night. You thought she was a policewoman.
The translator is also present and you know her: the guide in the museum. She is also entitled to copies of passport, papers, … You ask her if she is also a foreigner, but no, she is here as an official translator, so be photocopied id card and diplomas.
Photocopying sessions end after a good half hour, and then begins the interrogation. Dozens of questions about your identity, your schedule, your arrival, your relationships with the people of the gotsinitsa, how much you pay, etc. A question that will surprise you: do you have any psychiatric treatment? Not so far.
The inspector writes the minutes, then the interpreter translates orally before you sign these papers.
You finally understand the concern from: arrived in a city, you have to register if you stay over 8 days. The date of your first arrival is the one that counts. You did not, and therefore you are wrong. In the end nothing serious, but you had this interview and these papers to explain why you had not done. Finally, the inspector issues a smile. She is relieved.
You leave the office, it's already 5pm. A session of bureaucratic tourism has occupied your afternoon. Once in his life, it deserves to be seen, but it's enough.
Friday, August 1, 2014
You get up early with the idea of ​​sailing around the bay for a few hours on your boat. You will also redo some tests for planing. It's not raining, but just out of gotsinitsa, you understand that you will have to wait: we do not see 100 meters due to fog. This limits the interest of a cruise in the bay. Better to wait.
Around 10 am, still foggy. You're going to visit Maria. She has news for you: a ship will arrive on Sunday and depart to Anadyr on Monday. If you want to take it, you need the bike reassembled tomorrow at the latest. Rather today if anything goes wrong. But you need recovering now the wheels you have left in the shed of the Town because tomorrow is weekend.
You're going to take this ship. Maria tries to reach the person who has the key to the shed where your wheels are stored. You have them at noon when the fog finally lifted. You see Tolek coming, staggering. Drunk, he remains calm and nice. He often repeats "pajalousta" ("please").
You borrow a small boat to avoid swiming to the bike. At least your dry-suit will be wet on the lower legs only.
Once recovered the bike on the beach, you put yourself at work. There for several hours, but the tide is high, just starting going down, and you have plenty of time. You try to go up alone, although Tolek, joined by another drunken man, watching you and is ready to help you. You want to check that you are able to do it by yourself.
At the end, you ask Tolek and his friend to bring the bike forward when getting the rear wheel: the bike slipped because of the slope, and the swing arm is too close to the rear board of the boat. The wheel does not pass.
Would you have succeed without their help? Probably by completely deflating the boat at that time. Or, if you planned the problem by hanging the bike in front of the boat with a strap. You would have been able to get the bike by laying on the side, but better to avoid.
Then you pack the parts and the tools, and you still have to fold the boat that is dirt with sand and gravel. You remove your pants and come in the water to rinse it. Error: you forgot to close the inflation valves, and water goes into some of the floats.
The sun and wind dried the bag, and help you to dry the boat. A Chukchi woman arrives with her children. She had already passed yesterday as you were testing. You chatted. She is smiling, softly, and continues to ask you questions. She helps you to fold the boat in its bag. At 5pm, you can finally go back to the gotsnitsa. It was another day that did not go as planned.
In the evening you call Kosta. He teaches you several things: first it would probably be possible to reach Provideniya by the earth, from Amguema. A man who has an amphibious vehicle, probably the same kind of gear than Vladic in Bilibino would be willing to accompany you with Philippe. But Philippe is still far from Egevekinot. Kosta also teaches you that there are still another village, Enmelen before Nunligran. He also knows a boat owner in Kanerguina who can get to Enmelen. By steps, you could probably reach Provideniya.
You search Enmelen on the internet and you actually find the coordinates of this village. By zooming in on Google Earth, buildings can be guessed. You regret not learn it earlier. You did not think Kosta could know so well that part of Chukotka and ways to get around.
Around one in the morning, you are woken by music. Another night of dancing on the ground floor of the gotsinitsa. You think back to what you've learned from Kosta. The journey of Egvekinot to Provideniya, is less dangerous than you can have thought. There are 400km, but almost the first half is protected, and the last 200 km can be cut into 3 sections with these villages between. But there is always the concern of gasoline.
You also think back to your testing. You threw in the towel too soon. You should have to think rather than give up. This dirt water has frozen your brain.
One of the latest changes you made consisted in adding a piece of rubber below the anti-cavitation plate. That may be a mistake … If the air is captured at this place, it is likely to flow under the plate to reach the propeller. It would be even better to let the air in the teeth of the belt… You could think of, try other things, remove these pieces of rubber, try to analyze the problem step by step. It has worked, there is no reason for not making the boat planing again.
It's too late now, unless you get to Provideniya, and do more testing. If you want, you still have the passenger ship on August 11. Not sure that it takes your bike, but you can ask the captain. Or wait for Kosta and Philippe who will arrive in two to three weeks. But probably too late? You were often told that the sea in August is bad and even worth in September.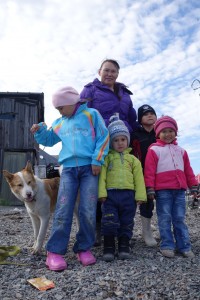 Saturday, August 2, 2014
Still fog. You finish the work on the bike. There will be still disassembling the transmission mechanism and the storage of all the parts in the saddlebags. You will do it in your room.
You do go for a ride by early afternoon. You make the trip and back to Amguema, 90 km north of Egvekinot. You recover the landscapes you liked between Bilibino and Egvekinot. But you take the time to stop for taking pictures. You take small trails to the rivers, you look at the toondra. This may be the last motorcycle ride of the trip.
A couple of times, stopped vehicles. Natalia, the manager of the gotsinitsa told you that this is the period of fungi, "gribis.". Indeed, there are many over the tundra. Animals should appreciate as well as people.
Every night, you download the GRIB file for the weather forecast. As of Monday an episode of calm on the coast. The one you could have enjoyed. And then the bad weather, waves of 3-4 meters. August?
Sunday, August 3, 2014
Your last day in Egvekinot? In any case, you will publish your blog tonight. It's been a long time since you have not published and your friends are starting to worry.
You need to also decide what you will do once in Anadyr. What you want to do.
Go home ? This trip was the desired recognition. You understood the challenges, solutions, and also met people who can then help the success of a second trip better prepared, in two years. However, you're not 100% sure you can make the second trip. Will you find the companions ready to accompany you? Will you succeed once again for getting the permission to cross Chukotka?
Go further ? Either you take the boat to Provideniya if they accept you with the bike. This will allow you to meet people there, whether it is possible to obtain the agreement of border guards to bypass the Cape Chaplin. And maybe you will cross the strait if the weather in August is not as bad as you are told.
You get a call from Ludmila, the guide of the museum. She proposes you a walk along the coast. You spend the morning walking. You are happy to see clear water, clean. The sea is not as dirty as anywhere near the beach of sheds. Pleasure as walking. The day is beautiful. You know these next three days were the perfect weather window to cross the Bering strait. If you had been in Provideniya … Even at 5kts, you could have try without a big risk.
Ludmila often contacts the few foreign guests in Egvekinot. A way of maintaining her English. She speaks to you about biologists, anthropologists who have gone before you. She seeks to understand if you have also a scientific reason, if you would like to write a book about this place, about your journey. Once, she accompanied a group in an amphibious vehicle to Vankarem. The path you wanted to take initially to approach the Bering Strait before you understood that you must leave Russia from Provideniya.
You also go to the port to make inquiries. The boat will leave tomorrow is the famous passenger ship that will go 12 to Provideniya. "The Captain Suknikov". You'll know at least if they accept your motorcycle or not. Otherwise, you will not go tomorrow, and will have to wait for a cargo that would accept you and your bike.
Waiting is something you have to accept in Chukotka. For the past two weeks, three Chukchi women, one accompanied by a child of ten years, are waiting in the gotsinitsa to take a helicopter that will take them to Port Smith, on the Arctic coast. Many times, they believed that the helicopter will leave and have traveled by taxi to the airport. But each time, the flight was canceled due to bad weather. You know that if they do not leave in the next two or three days, the weather is not going to go into arranging.
Back to the gotsinitsa you disassemble the mechanical transmission, pack and store the parts in your panniers. A puzzle that you do not remember more precisely the solution. You must find it.
At the time of deciding the continuity of the trip, as you think back to your motivations. Why the Bering strait? For you, the Bering is a symbol. That of ignorance of your kind in the history of mankind. When you were kid at school, you are presented America as a new world discovered by Christopher Columbus. At no time had arisen the question of when the "Indians" had arrived. You had understood they had always been on this continent, as well as Asians, Africans and Europeans had always been present in the old world. You never had realized that America and Eurasia were connected by the Bering Strait. Since then, scientists have realized that men like other mammals peopled America from this path. That all men are from a single branch, and there was no more humanities arising in several places on the planet. All this might be obvious, but you do not think many people know that they necessarily have a common ancestor with anyone on earth. Whether Native American, African or Polynesian. That we are all more or less cousins. For you, the Bering is the symbol of this ignorance. An unfamiliar place that is considered the ends of the world, then it is rather the center joint.
For years, the Chukchi and Eskimos crossed without knowing it was considered a frontier separating two continents. It was a central living area, and fishermen easily passed from one bank to the other. But modern history has made no-man's land, another Berlin Wall, an insurmountable barrier. If it is still difficult to cross the strait, it is primarily for administrative reasons.
So much for your philosophical motivations. Now you're also happy to travel, and travel on a motorcycle in these places of great beauty. Glad to meet people in hard to reach areas. Happy to show that we can leave home and go anywhere. Happy chasing an utopia, a world where we could go everywhere without flying in a big aircraft.
Now you must go back to your disassembly and your storage.
6pm. You take your meals at the gotsinitsa. The weather was great, quiet, and you are surprised to find the lady and her daughter who have been waiting for the helicopter to Port Smith. She smiles: the airport does not work on weekends. Fortunately, tomorrow is yet to be beautiful.